Categories
Statistics
Number of ads: 600
Registered users: 188


Partners
Show all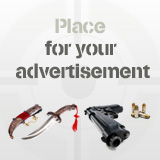 Other cold weapons
(9 ads)
Ad title
Price
Date added
Locality

samuri sword with stand and 2 daggers all well made and very sharp
30 £
11.06.2013
14:08
North East England
Made by W.K.C of Solingen The handle and blade in exellent condition,very rare it...
To be agreed
17.05.2013
14:36
East of England

The sword is a good reproduction but the other items are genuine issue.
To be agreed
17.05.2013
14:33
East of England

Set of 3 Samurai Swords: Comprising of a Katana, a Wakizashi and a Tanto. These a...
55 £
16.05.2013
07:25
Greater London
A Replica Roman sword of General Maximus complete with lather scabbard also A Rep...
59 £
12.05.2013
20:48
Wales

Set of 3 Samuria swords, un sharpened. black stand to hold them. very good condit...
40 £
12.05.2013
05:28
North West England

RARE ANTIQUE 16th century English cavalry sword,genuine sale,bought at an auction...
500 £
12.05.2013
05:04
East Midlands

For sale a highly detailed Full size Katana Samurai sword worth over £700 three q...
140 £
10.08.2012
13:25
Greater London