Categories
Statistics
Number of ads: 600
Registered users: 167


Partners
Show all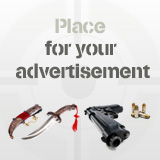 Knives, daggers, bayonets
(22 ads)
Ad title
Price
Date added
Locality

1917 remington bayonet c/w scabbard which requires a small repair to the tip. pl...
80 £
12.05.2013
04:58
East Midlands

Very realistic yet perfectly safe as it bends easily and is relatively soft. Idea...
4 £
10.08.2012
13:19
South East England

Collectable knive in tin, for sale as lost interest in them.collection only.
10 £
10.08.2012
12:13
Yorkshire and the Humber